Typical User Profiles :
To order or purchase your "BASIC" CD, please contact support at the e-mail below.
Farmers & Auctions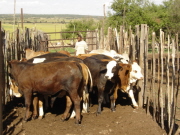 Cattle being tagged,
weighed, medical processing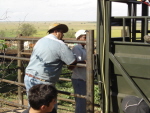 Sheep ID tagged and scanned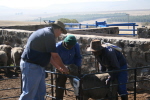 Sheep weighed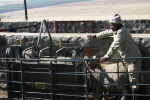 Sheep vaccinated &
treated for internal parasites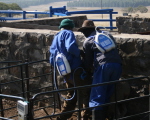 Sheep Management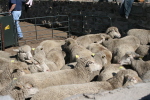 - Software Features -
Register as a user, setup your details
Register each animal with its tag ( Interevet ID tag for livestock )
Register the animal details
Register the medical treatments applied
Register routine procedures applied eg. Vaccinations, de-worming, dipping etc.
Weigh animals regularly, determine ADG (ave. daily gain)
Register status of animal eg.active, quarantine, dead, sold etc
Change of ownership
(change of location)
DISPATCH
Notifiable diseases record or EROSION disease notification to potential new owner ( farmer, feedlot, abattoir, meat processor = human food chain safety protocols )
Veterinarians can enter their client's livestock test results eg. TB, CA or Trichomonas etc on line to the benefit of all livestock producers who will be able to insist on the animal's latest health screening tests conducted prior to purchase.
Assists livestock auctioneers in providing real, live info to their prospective clients on the day.
Adds value through providing animal health records for new prospective buyer.
Animal change of ownership can be concluded at the auction premises.
DISPATCH (send animal details electronically to new owner)
LIVE UPDATE of all data can be done via internet and should be done as regularly as possible.
Annual animal health program cost projections can be done at a service fee available from GMPTags.