Home page ENGLISH
e-mail: Software / Download page
---
R900.00 annual license key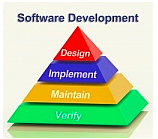 GMP Traceability does its own in house programming. This affords us the ability to adjust to market trends on behalf of our user clients.
---
The GMPBasic ™ software AND download is available in two formats:
1. A CD that is purchase-able to install on a computer ( desk top or laptop ) for use OFF-LINE to start the process of GMP.
2. An internet downloadable version
Both versions are designed to allow regular updates via the internet.
GMPBasic ™ Program
A internet based update of program enhancements will be available for all farmers registered and using the system. Animal health related news will be published on the website and sent to subscribed e-mail users.

To order your GMPBasic ® Memory Stick.
A Memory stick is sold at R195.00 each (Vat Excl.)
(South Africa)

GMPBasic ® Patented Livestock identification, traceability and management software exclusively designed and currently supported by the ALLFLEX tamper evident, non re-usable visual ear tag linked to the GMP Traceability CENTRAL DATA BASE. The ID tag distribution by GMPTAGS & MSD Animal Health , South Africa

The GMP identification ID Tags are all produced with their own unique serial number and each tag is pre-loaded onto the Database. This is hosted on the GMP Traceability server on behalf of GMP traceability software solutions.

Fraudulent, irregular, non-GMP coded ID tag numbers will be flagged and investigated. Users entering incorrect data / tags can be notified of such errors.

Register owner details

Setup paddocks or animal groups

Setup Dispatch client details

Setup suppliers details

Register animals

Weigh animals

Enter pregnancy status

Record treatments

Record notifiable / erosion diseases

Dispatch animals to next location

Create excell reports
---
e-mail: Software / Download page
---
Software Features
Register as a user, set up your details Register your property location.
Register each animal with its tag ( MSD Animal Health ID Tag for livestock ).


Register the animal details.
Register the medical treatments applied


Register routine procedures applied e.g. Vaccinations, de-worming, dipping etc.
Register status of animal e.g. active, quarantine, dead,
sold etc

Pregnancy and Birth Status
Dam / Sire status


Ostrich details & movement details
ADG - Birth to weaning - Weights entered


Change of ownership ( change of location )


Notifiable disease record or EROSION disease notification to potential new owner (farmer, feedlot, abattoir, meat processor = human food chain safety protocols)


Veterinarians can enter their client's livestock test results e.g. TB, CA or Trichomonas etc on line to the benefit of all livestock producers who will be able to insist on the animal's latest health screening tests conducted prior to purchase.


May assist livestock auctioneers in providing real, live info to their prospective clients on the day.


Adds value through providing animal health records for new prospective buyer.


Animal change of ownership can be concluded at the auction premises via the internet or a 3G internet connection.

1. Veterinarians may submit animal test material to labs. Each animals unique GMP number is reflected against its test results. The vet / farmer are able to record the results manually into the GMPBasic system OR import the results electronically via the internet into their GMP profiles.

2. The electronic result import of the test results released from the IDEXX "LIMS" system automatically. The animal's data becomes available to the farmer. This is imported automatically into the owners profile from the GMP Central data base.

This enables the owner to exhibit the data to any other interested livestock owner. The process assist with traceability of healthy animals for breeding purposes or for food production.

Through this the auction status of unknown changes to one of known:



"AS IS to a KNOWN STATUS"
---