ENGLISH
Goat / Sheep Farmer : GMPBasic ®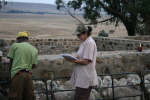 Capturing "old" numbers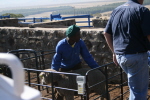 ID tag, scan, weigh & treat the goats / sheep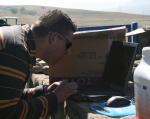 All the laptop needs is a little bit of shade (a mobile office may even operate outside in extreme conditions as was experienced on this day)

The ideal situiation would be top have a small office or structure at the crush / race to do the computing work.

Alternatively use a set of plastic chairs & plastic table with an umbrella or a gazebo to reduce the effect of the harsh sun.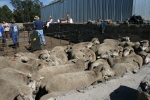 Sheep, tagged, processed and ready for future herd management to be implemented

FAMACHA - scoring is unique for Wireworm infestations in sheep world-wide. The score card method was developed by Drs Faffa Malan, Jan van Wyk, Prof Gareth Bath.


The software allows this concept to be used for treatment, genetic material selection on farm.

To receive training & purchase your FAMACHA score card, contact your local veterinarian who will acquire it from Prof. Gareth Bath, Onderstepoort, Veterinary Faculty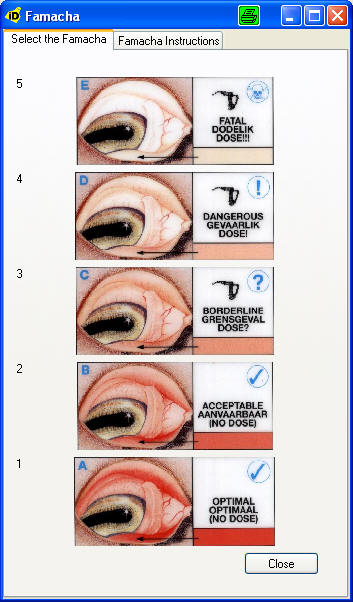 Would you like to know more about the FAMACHA selection card method ?

Click on this link: FAMACHA


------------------------------
Register as a user, setup your details


Register each animal with its tag ( Interevet ID tag for livestock )


Register the animal details


Allocate the animals to specific group


Register the medical treatments applied


Register routine procedures applied eg. Vaccinations, de-worming, dipping etc.


Register status of animal eg.active, quarantine, dead, sold etc


Change of ownership (change of location)
DISPATCH


Wool Fibre thickness recording, used to sort sheep for value add in wool classing & shearing


Notifiable diseases record or EROSION disease notification to potential new owner (farmer, feedlot, abattoir, meat processor = human food chain safety protocols)


Veterinarians can enter their client's livestock test results eg. TB, CA or Trichomonas etc on line to the benefit of all livestock producers who will be able to insist on the animal's latest health screening tests conducted prior to purchase.


Assists livestock auctioneers in providing real, live info to their prospective clients on the day.


Adds value through providing animal health records for new prospective buyer.


Animal change of ownership can be concluded at the auction premises.


LIVE UPDATE of all data can be done via internet and should be done as regularly as possible.


Annual animal health program cost projections can be done at a service fee available from GMPTags.

------------------------------
To order or purchase your GMPBasic® CD, please contact support at the e-mail below.

Cell +27 83 630 7181
------------------------------