Feedlot Operation :

Mr Pieter Woest, Bronkhorstspruit area, Mpumalanga, South Africa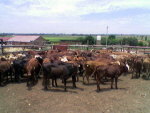 Calves are weighed during registration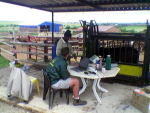 Calves are processed in the crush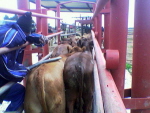 ID Tag, all the way from Kuruman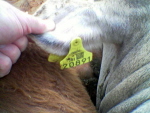 A calf is weighed, tagged etc.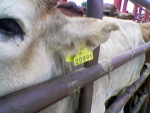 The calf will be recorded into this GMPBasic user's software
Become part of the traceability and management system, beat the SOUTH AMERICAN WAVE.

To order or purchase your "GMPBASIC™" CD, please contact support at the e-mail below.


- Software Features -
The calves are weighed, those without tags are tagged during the registration process.
Each animal immediately becomes part of an audit process.
The animals are allocated to a specific pen, where numbers present can now be checked against a ANIMAL / PADDOCK report.
All the treatments administered are entered against each animal in a batch process manner.
The weights can be exported to excell where many data extractions or calculations can be done.
LIVE UPDATE of all data was done through the internet to the Central data base. A back-up file was immediately made.




The next phase is to install and provide training to the local abattoir admin staff. This will enable them to provide this SUPPLIER with the relevant slaughtered weight, grading per animal.
Any discrepancies / variances can now be checked and sorted out. Irregards if it is from the farmer or the abattoirs perspective.